Here is s a tutorial on how to make the QNAP QGD-1600P with pfSense work with VLAN tags.
Please note this is for Firmware version 4.4.3.1381, there will be changes done to QTS and QuNETSwitch in the future that will help with easier assignment of VLAN as I've put in request to QNAP support.

The process is slightly different on how you would assume VLAN would work on pfSense, lets start in creating two VLAN, 3001 for WiFi Guest and WiFi 3002 for Private.
Go to Network & Virtual Switch and Add a Gaurdian vSwitch Mode.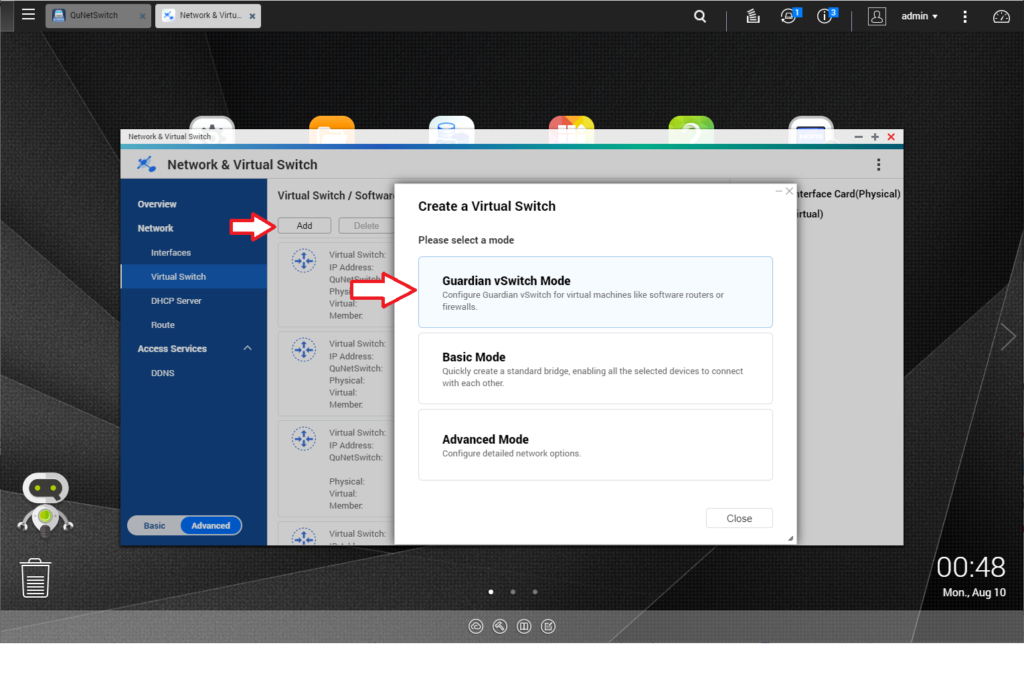 Assign a VLAN ID: 3001, you need atleast one port available and select Adapter 3 (Host 3). If you don't have any port available you need to temporary remove the untagged VLAN on that port from QTS.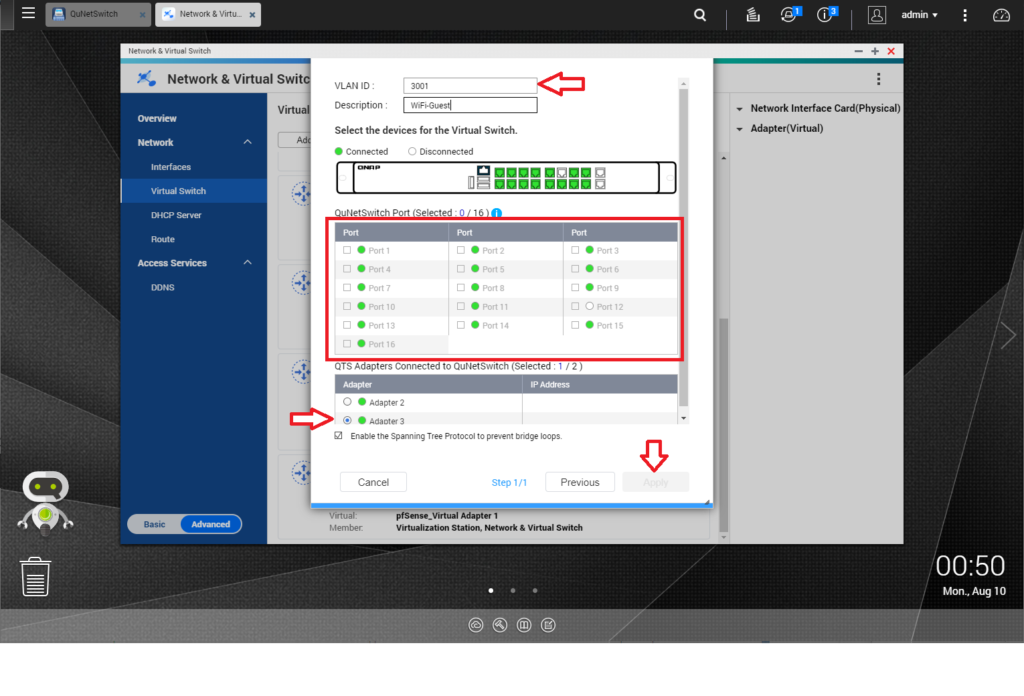 Go into QuNetSwitch and edit the VLAN, for your pfSense LAN that has all the port assigned and untoggle the 'selected' for that port. Now you can add that virtual switch.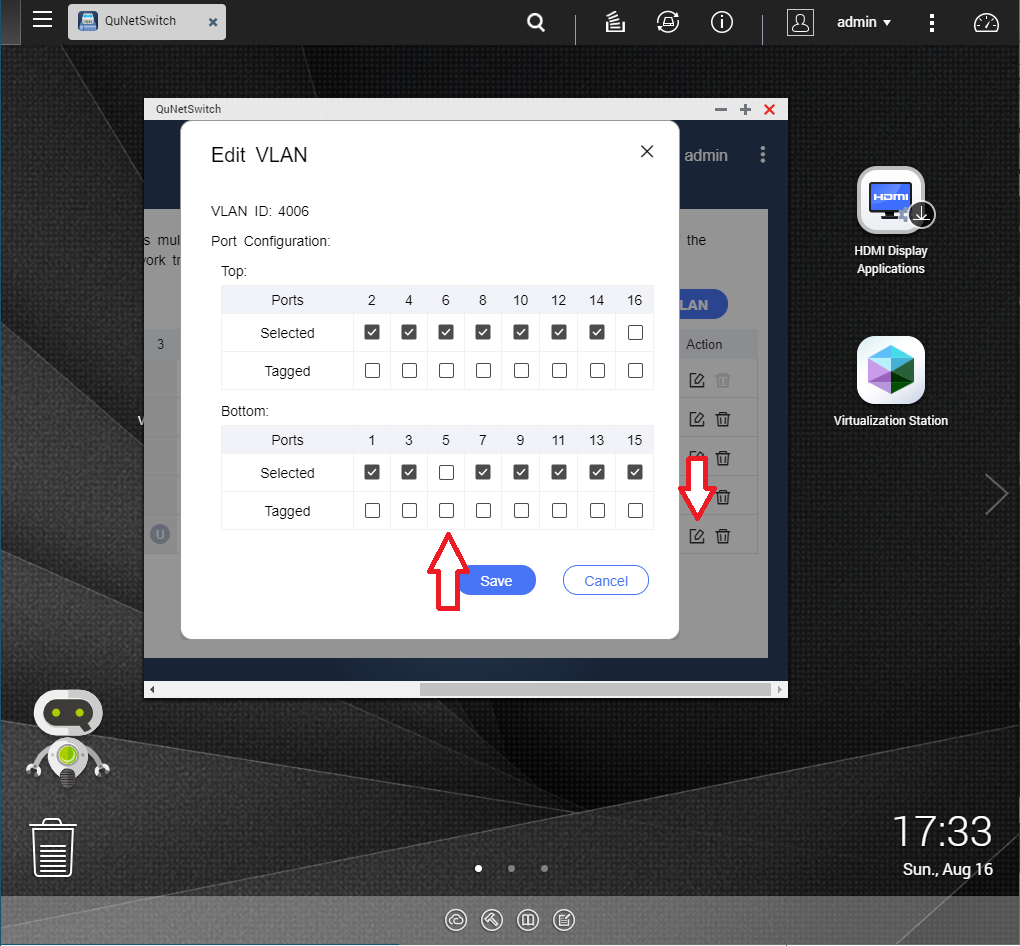 I've created another VLAN for separating WiFi Private to WiFi Guest, if you just need one VLAN than ignore creating another Virtual Switch.
I've named the Virtual Switch for easy to see which is which, but here are two Virtual Switches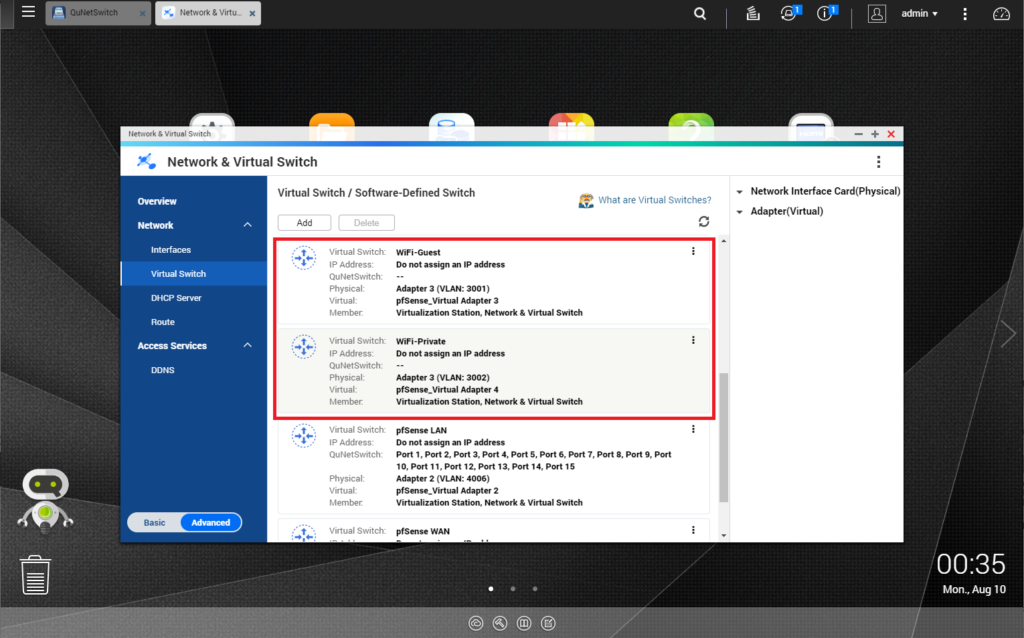 Now edit the VLAN you have created set to 'tagged' and put the pfSense virtual switch back to 'untagged'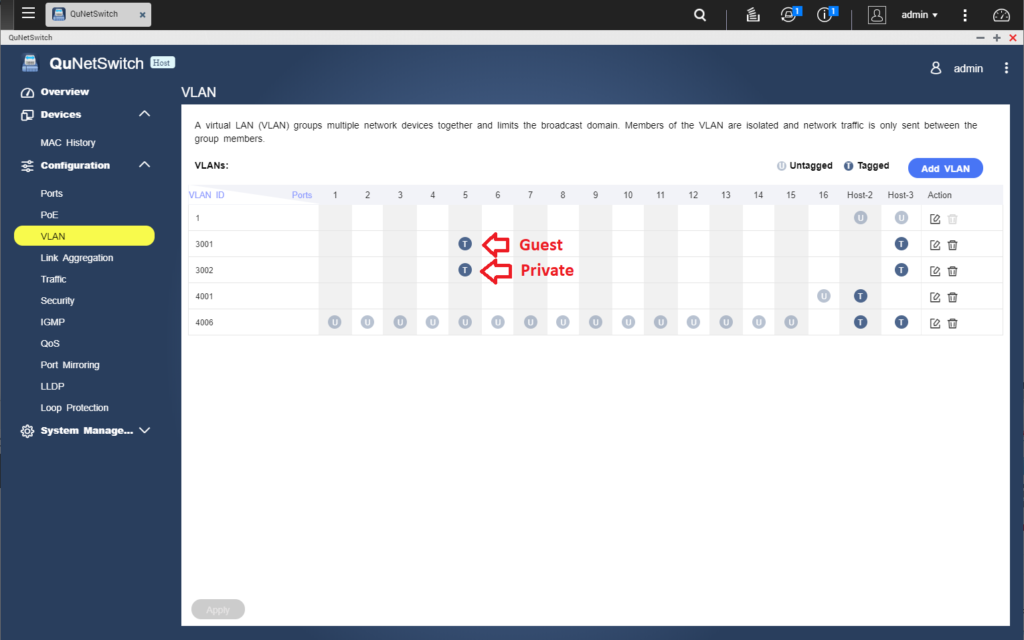 Add the newly made Virtual Switch into the pfSense VM, click on 'Add Device', select 'Network' type and choose the Virtual Switch.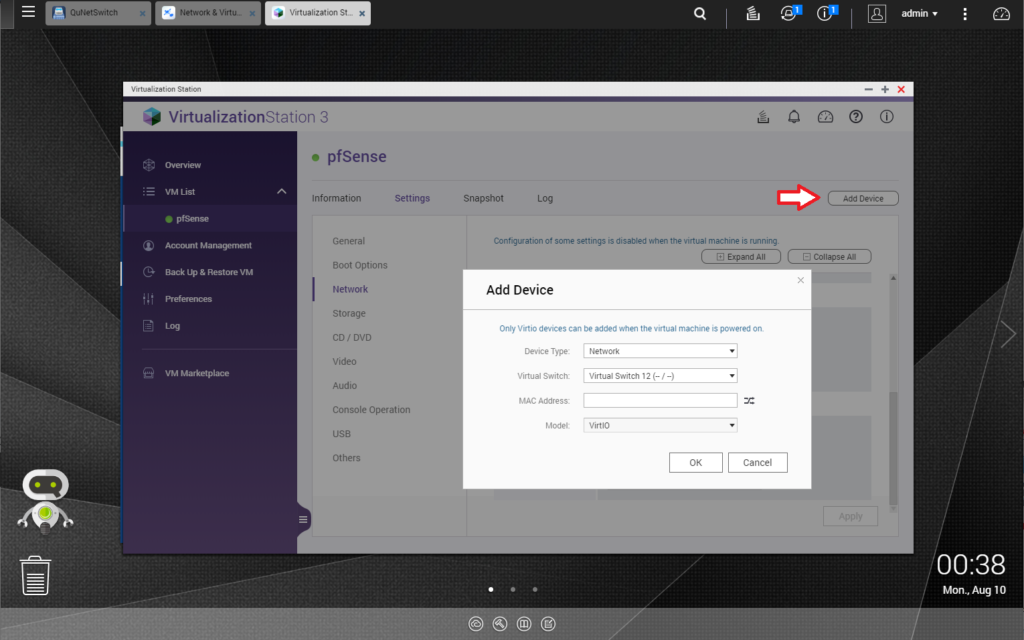 You do not need to turn off the VM, pfSense will automatically see the new network. Your Adapter 3 and 4 will look like this. Virtual Switch 12 is 3001 and Virtual Switch 13 is 3002.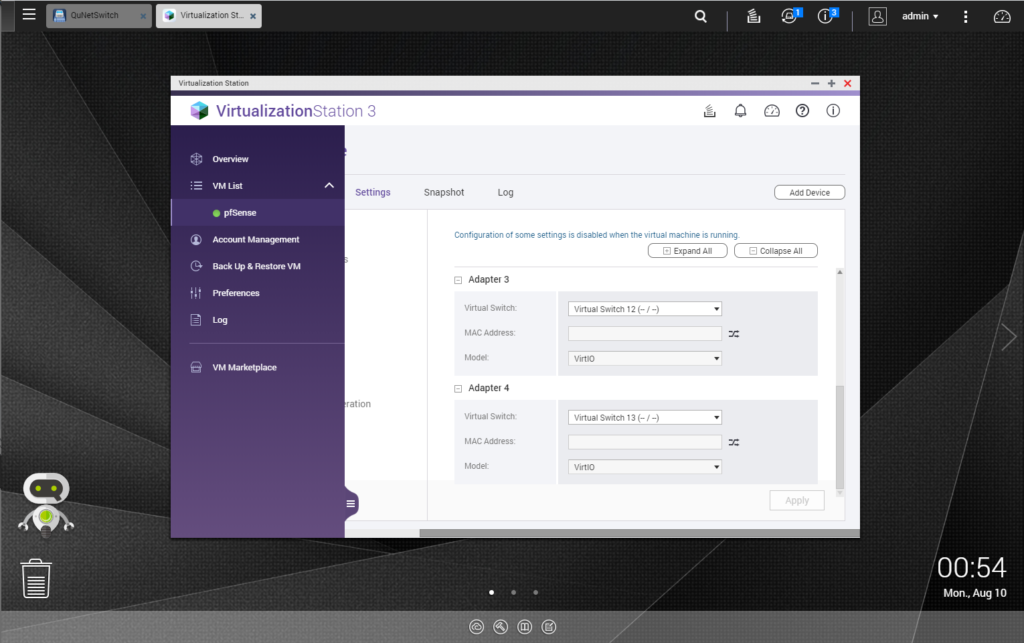 You directly add the new Interface directly to pfSense, so add vtnet2 and vtnet3.
Do not assign VLAN from pfSense, the Virtual Switch on QNAP handles the tagging.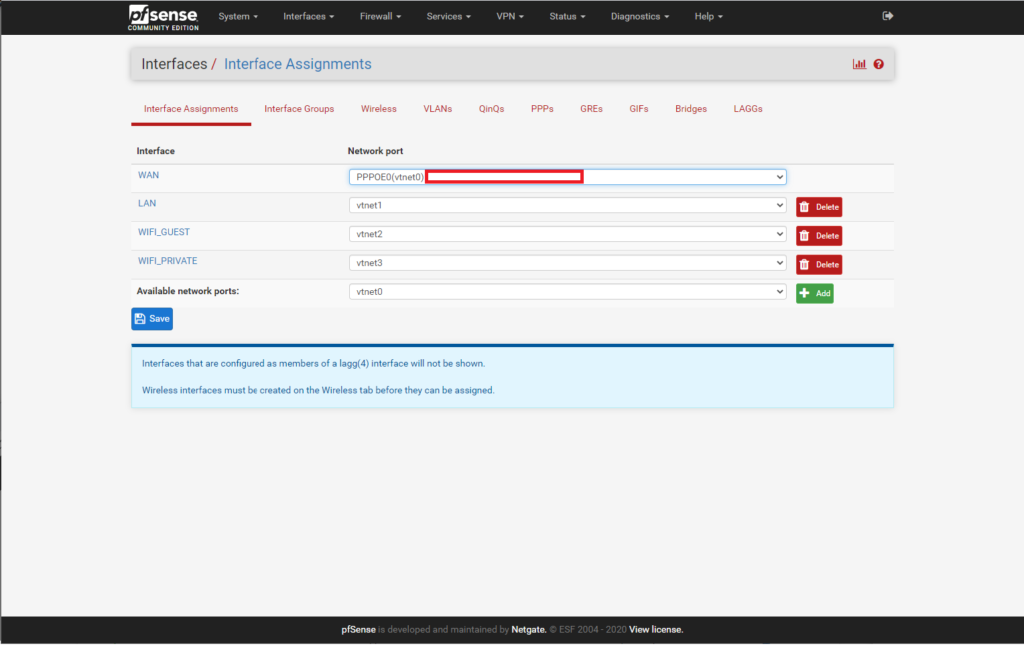 To be able to assign a new DHCP range for that particular VLAN, you must enable the interface, select Static IPv4 and the new address for that range. So if you planning to put a DHCP range of 192.168.1.1 to 192.168.1.253 you should put 192.168.1.254 to access pfSense in that range.
Within Service > DHCP Server section you should see the new interface, tick enable DHCP and provide the DHCP range for that interface.
From there you should be able to retrieve connection from packets that have VLAN 3001 or 3002. pfSense does not actually see any VLAN tagging it's done via the Virtual Switch.